2005 Suzuki GSX-R1000 in Asheville, North Carolina For Sale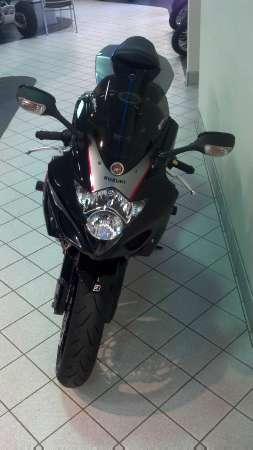 Price: $5,999
Seller:
Type: Business, For Sale - Private.

.

xxxx Suzuki GSX-Rxxxx
$xxxx
Call (828) 537-xxxx ext. 316
MR Motorcycle
(828) 537-xxxx ext. 316
774 Hendersonville Road,
Asheville, NC xxxx3
In Great Shape!Take a look at the top of the podium - Suzuki has done it again! At the end of an intense season of racing Mat Mladin and his GSX-Rxxxx won the AMA SuperBike Championship - a record-setting fifth time that he has won the prestigious championship! Proof that Suzuki GSX-Rs are the ultimate way to Own The Racetrack.
For xxxx we've taken everything we learned developing those championship-winning machines and produced a new-generation supersport bike that's ready to build on Suzuki's heritage of total domination. Introducing the incredible all-new xxxx GSX-Rxxxx - a fitting flagship to celebrate the 20th anniversary of the birth of the GSX-RTM line of supersport bikes.
The new GSX-Rxxxx features an engine with increased displacement producing more horsepower and torque than ever with quicker acceleration to match - both from a standing start and in roll-on blasts through the gears. It's also been redesigned to shave precious pounds making it a phenomenal 8.8 to 28.6 pounds lighter than its closest rivals. Its light weight along with completely refined suspension front and rear give the GSX-Rxxxx razor-sharp handling and superb responsiveness.
To own your piece of the track in xxxx there's only one choice: the all-new GSX-Rxxxx.
Vehicle Price: xxxx
Mileage: xxxx7
Engine: 999 999 cc 4-stroke four-cylinder liquid-cooled DOHC 16-valve TSCC
Body Style: Other
Transmission:
Exterior Color: Black
Drivetrain:
Interior Color:
Doors:
Stock #: xxxx00
Cylinders:
Standard Equipment:
xxxx Suzuki GSX-Rxxxx
$xxxx
Call (828) 537-xxxx ext. 316
MR Motorcycle
(828) 537-xxxx ext. 316
MR Motorcycle
774 Hendersonville Road
Asheville, NC xxxx3

.

Price: $30


Tattoo special
IM DOING SMALL TO MEDIUM SIZE TATTOOS TODAY ONLY FOR $50.00 NAMES ARE ONLY $25.00 EACH $5.00 ADDITIONAL PER COLOR YOU...
Price: $50


Price: $60


Price: $22


Price: $679